Disclosure: Divas, I am grateful for your decision to read my blogs. Recently realized I can share my valuable hair, makeup and beauty tips/secrets with you all while getting compensated by the suppliers of the products I have used and choose to share with you. It is therefore your sole decision to choose to purchase these items and determine for yourselves if they are valuable to you. I do not share with you products I have not used before and determined that they are a great value for your daily routines. Any conclusions made in relation to the items are totally my personal points of view. 
If there has ever been a hair tool I use on a daily basis, it is the Denman hair brush (Picture below). After suffering from hair breakage from using other kinds of combs, I have now settled for The Denman Brush. My preference for this brush is for the following reasons:
It is sold in most local and online beauty stores like Sally.
It is made of plastic, nylon pins and a rubber pad, light weight yet great for excessive and light hair combing.
For Naturalista's with thick curls, this brush can easily straighten your knots without damaging your hair.
It is a great option for me when I travel as it fits my small sizable luggage bag.
If you wear virgin hair extensions, this is a great brush for you.
Personally, I use this brush to comb through my natural textured hair as well as my hairzaria virgin hair bundles, weaves and wigs.  I had my last Denman brush for 2 years and just picked up a replacement from the local beauty shop Sally. Price depends on brush size which ranges from 5 rows to 9 rows.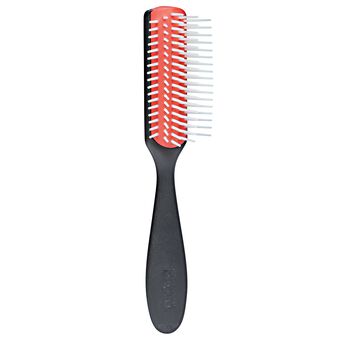 Denman Brush
Lets talk. Have you used the brush before?  Please leave comments below to share your experience using this brush.